Email Us
View Website
Suite 1, 34 Wyuna Rd
Pymble New South Wales 2073
Australia
Servicing Locations
Epping

Gordon

Hornsby

Mona Vale

Mosman

Neutral Bay

North Ryde

North Sydney

Pennant Hills

Ryde

Sydney

Turramurra

Wahroonga
About us
Our Company is at the forefront of stamped, stenciled concrete and concrete resurfacing technology. We offer you the absolute latest in designs and techniques to ensure years of low maintenance and durability for the tough Australian conditions.
Products/Services
Concrete driveway concreters Concrete driveway quotes Concrete footpath concreters Concrete footpath quotes Concrete footpath repairs Decorative Concrete Concreter Driveway concreters Footpath concreter Footpath quotes Polished concrete and grinding Polished concrete concreters Retaining wall concreters Retaining wall quotes Stencil concrete Stencil concrete concreters Stencil concrete installations Waterproofing products
Our Strengths
Our company has won numerous awards including the True Local Business Award for Trades & Services in 2008, 2010, 2012 and 2016. These accolades reflect our professionalism, expertise and our commitment to growing our business and improving the standards of the industry in general.
Why Choose Us
We Offer An Unequalled Triple Guarantee. We are so confident that you will love your new concrete driveway, patio, pool or concrete resurfacing, so much that we offer a Triple Guarantee whereby, your project will be finished within the time frame we've agreed upon, if you feel our work hasn't met your expectation at the end of the project, we'll personally pay for another concrete re-surfacer of YOUR choice to finish the job to your liking. And finally, your concrete surface is backed by a 5 year works warranty for residential
Our Client Base
Civil Building companies Civil Project companies Residential Residential Builders
More on Us


SERVICES
Concrete Driveway Repair Sydney
Concrete driveway designs & options that truly impress. We create new driveways and revamp old ones.
Among the uses for concrete around the home, the driveway is one of the most popular. Homeowners are not limited to the boring grey colour seen on most pathways, except for those footpaths resurfaced by Wizcrete! Concrete comes in a variety of colours and styles that can be used to fit any home theme and style and increase the beauty and appeal of your home. Driveways are an especially important feature of the home, as they have high 'curb appeal.' Maximizing its beauty and style is a great idea, especially with the large number of concrete colour options and styles of concrete available.
Impressive options available for your Sydney driveway
It is better to select a dyed concrete rather than an acid stained one, as the colour will be more uniform throughout the entire installation, and not simply giving a "marbled" look as an acid stain would. Wizcrete can offer homeowners in Sydney a large variety to choose from. This allows you to match the driveway to the colour palette of your home and landscape.
Choose from a range of modern patterns for your concrete driveway
Colour is not the only design choice – homeowners can also select different concrete patterns for the driveway. One very popular pattern is stamping. When concrete is stamped it is made to look like brick, tile, flagstone, and sometimes wood. The pattern is stamped into fresh concrete, making the installation look like something fancier. Homeowners can thus achieve the look of stone, brick, or tiles without having to deal with the high cost and maintenance that comes with these options.
The colour selected and the stamp or pattern chosen can complement each other to create a fancy or traditional look for your home. You can also add different kinds of patterns depending on what you want to express; these methods include engraving and stenciling. If your driveway has cracks in it, you can mask them by working them into the pattern, perhaps making the concrete resemble stone.
Installing your new concrete driveway
Installing concrete is quite easy. In the first step, coloured or colourless concrete is poured. While the concrete is still fresh, it is stamped with the pattern you have selected. Though stamped concrete is especially good for driveways, it is also used in other projects, such as patios, courtyards, pool decks, and more.
Installing concrete can be difficult for the homeowner who doesn't have the skills, experience, and tools to do the job right. If hiring a contractor to do the work, make sure he or she is skilled at creating the secure foundation below the driveway. A faulty sub-base will compromise the structural integrity of the entire project, potentially leading to the concrete cracking. Thus, the contractor needs to take a lot of care to properly install the foundation of the driveway.
If you are based in Sydney then our qualified, professional contractors can look after your new concrete driveway ensuring your sub-base is done correctly the first time. Be sure to check out our outrageous triple guarantee so you know you'll be satisfied with the end result.
Add Value To Your Home In Sydney With Concrete Resurfacing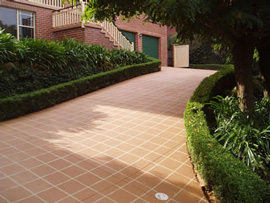 Renovating your concrete surfaces like your driveways has previously been a very expensive task. But the emergence of concrete resurfacing has provided customers with a very cost effective solution. Concrete resurfacing has undergone a number of innovations and now you can have beautiful and attractive surfaces on your driveway, patio or pool side areas. It's time to swap your old and dull surfaces with the new, fresh and classy ones. There are many people who do not understand the qualities of the concrete. They just take it as dull grey slabs and do not know to what extent they can change the look of your home.
Concrete has provided a number of different methods like stenciling, stamping and etching in order to substitute the boring surfaces of driveways, walkways, floors or walls. The material is very flexible and as a result it gives a very impressive look at the end. You can also try creative ideas so that a very ornamental and superb architectural look can be given. The usage of exclusive constituents and techniques may help you to achieve this objective.
So what exactly is Concrete Resurfacing?
The course of action in which the old and dull surfaces are replaced by the new ones by making use of new methods is known as concrete resurfacing. The techniques can be used to renovate the previous surface or you might create a brand new surface over the previous one. No matter what you decide, it is important to understand that in every way you can completely alter the surface.
Whether the Surface should be Resurfaced or Not?
The first step should be to check the surface that is going to be resurfaced. Find out if it is in the right condition to get resurfaced or not. It is not a difficult task to do. You just have to observe the condition of the concrete and see for yourself if it is in okay condition. If the surface is dented and cracked or it has been affected by the weather conditions then it would not be a good idea to resurface. A professional should be hired for performing this task.
Following are the various options available for concrete resurface in Sydney:
Overlays: A number of different patterns can be formed by making use of this choice. The look of brick or natural stone can be given by using stampable overlays. A grain look or silky smooth look can be given by microtoppings. Solid and soft look can be achieved by self leveling overlays. The reliable, durable and resistant surface can be obtained by the spray down overlays. In Australia and in particular Sydney, the spray down stencil finish is the most popular option available for resurfacing.
Decorative Stencils: This type of technique can be used over the previous surface as well. This can be done by choosing the stencil of your choice, putting it on to the surface and then putting a thin coat over the top. By the help of these stencils you can create designs that you like. Spray down and trowelling down are the most common ways of using stencils.
Spray on Paving: This spray is specially designed by amending the polymer. It is a cement based coating that can be obtained in a variety of colors.
Select From The Largest Range Of Concrete Patterns & Styles
Wizcrete has a large number of stencilled concrete patterns to choose from as well as stamped concrete patterns and styles. Keep in mind that you are not limited to what you see here.
Stamped concrete is definitely one of the preferred options for those who are looking for a more sophisticated look, which I'm sure you'll agree from the impressive photos below. If you live in Sydney and are considering a stamped concrete option for your home, then give us a call today and we'll run your options through our computer program and give you a range of options to choose from.
Decorative Concrete Stencils Add Instant Appeal To Any Home
Stencil Pattern Concrete allows you to customise your look by creating eye catching special designs, company logos or monograms. Choose from a wide selection of contemporary colours and patterns that are available, allowing you to create the look you want and rejuvenate your existing concrete.
Whether you have just poured fresh concrete or you would like a modern look over an existing concrete surface, concrete stenciling can be applied successfully. The stencils which are used are made from papers, making them tear and water resistant. The patterns can be varied according to the stencils but most of them have brick and stone patterns. Other popular choices are the slate or tile look. Stencils are overlayed on a concrete base, leaving behind what looks like 'mortar joints', making the end result very realistic. Fresh concrete or existing concrete – either is fine.
Upgrade your Sydney home with these amazing decorative concrete finishes
Decorative concrete is a wise investment and a practical choice for improving concrete projects, thus adding to the home's overall value. With an economy that is recovering slowly, plus a tough competition within the industry of concrete contracting, the reasonable costs of decorated and adorned concrete make it a wise option.
Due to the complete change from dull-looking grey concrete to attractive decorative elements, the mentioned beautiful concrete is actually the top selection for many. Subsequently, the benefits in utilizing decorative concrete in an upcoming project can include: functionality, durability, versatility, custom design and cost. More so, this allows one to add his or her own ideas to the design element.
The Installation Process of Decorative Concrete
Following the standard procedure of the planning and the preparation of the area's layout, pouring of the concrete is performed. When coloured concrete is wanted, the colouring may be added during the process or after. Seemingly limitless shades of dyes are available. Likewise, acid staining can be performed but isn't as popular in Sydney as the other methods mentioned.
Usually, the physical choice is stamped concrete. Nowadays, there are specific shapes and designs of all kinds of concrete stamped patterns. These are plainly imprinted on the concrete. The conventionally perceptible patterns like the imitations of flagstone, tile, brick, rock, or slate remain to be the most famous themes for the decorative concrete. But, there are other available touches or decors.
Why do so many people have pebblecrete driveways, pool surrounds and patio's? Pebblecrete was created back in the 1960's and back in those days everyone had pebblecrete driveways. Fast forward 50 years and you still see these tired, old, ugly driveways everywhere and it doesn't matter if you live in the eastern suburbs of Sydney or in the 'burbs'. Pebblecrete does not discriminate and you'll literally see these unsightly concrete surfaces everywhere. Pebblecrete did serve it's original purpose which was to create a non slip surface, but the reality is we now have an incredible range of attractive non slip surfaces for your driveway, patio or pool surrounds. Perhaps it's time to get that 'mini facelift' or minor renovation you have been wanting for so long.
Here are some common descriptions we hear about pebblecrete when we talk to clients
Tired looking

Old & Dirty

Moss & mould get stuck in the pebbles

Our driveway has many different colours and stains

Stains easily

Stains are hard to get rid of

Easily picks up rusty stains as well as oil stains
The biggest question we get asked is how do you clean pebblecrete? Unfortunately there is no easy or cheap solution for that. To make matters worse it really doesn't matter if you do an amazing job of cleaning it as all the stains, mould and algae will reappear some time down the track and you are back to square one. Your best bet is to use natural cleaning products that are specifically designed for pebblecrete surfaces along with high pressure water cleaning. The other alternatives are harsh chemicals or a whole heap of scrubbing with a stainless steel wire brush. This will greatly help remove the black algae you can see. Yuck. All of those options don't sound great do they?
1. What is the "Wizcrete Concrete Solution"?
Our "Wizcrete" concrete coating is a cement based polymer enhanced coating that has been specially designed and formulated to be applied to the surface of existing concrete or pebblecrete. The concrete is a strong durable spray-on product that can simulate up to 35 exciting patterns such as the traditional Cobblestone and Terracotta Tile.
2. Where can this product be used?
Our coatings have a myriad of applications such as driveways, terraces, carports, pathways, entranceways, entertainment areas, pool surrounds etc. Custom designed logos and motifs can also be created. For best results the existing concrete surface must be of sound or solid condition.
3. How long does the product last?
Our "Wizcrete Concrete Solutions" coating has been independently tested by the CSIRO. The results indicate that if the spray on coating is applied in accordance with the manufacturer's specifications, a service life in excess of 15 years may be expected.
To view more FAQ's, visit our website.