Published on 6/1/2017
Published by marketing@concretebroker.com.au
Material Spotlight: 10 Killer Concrete Homes
By Jennifer Baum Lagdameo / Published by Dwell – March 24, 2017
Material Spotlight: 10 Killer Concrete Homes
By Jennifer Baum Lagdameo / Published by Dwell – March 24, 2017
With a history dating back as far as the Roman Empire, concrete sometimes conjures up stark images of Brutalist structures from a bygone era. However, concrete homes have come a long way from a purely functional past.
Explore the following dwellings that revel in their use of this tough building material.
Belgian Concrete Country Villa
When searching for a home for her family, Belgian fashion retailer Nathalie Vandemoortele stumbled across this fortress-like house located in the Belgian countryside. Originally built in 1972 by architects Johan Raman and Fritz Schaffrath, the concrete structure had good bones that stood the test of time—but it was in need of interior updates.
Designed in 1972 by a pair of Ghent architects, Johan Raman and Fritz Schaffrath, the Brutalist concrete architecture and petite garden were love at for sight for Vandemoortele, but the interiors needed a few updates.
Photo: Frederik Vercruysse
When a Lima-based couple acquired the husband's childhood home, they turned the 1940s colonial residence into a guest quarters with offices downstairs. They envisioned building for themselves "something contemporary, surrounded by green, with lots of light and living spaces all on one floor." 51-1 Arquitectos constructed Casa Serpiente, which meanders through a grove of 25 trees in the former home's backyard area.
The entrance of Casa Serpiente is reached via a long ramp perforated by uplights.
Photo by Cristóbal Palma
"A lot of what I do is an attempt to use engineering materials in a domestic setting in a new, clever way," explained South African architect Gregory Katzabout three 3,660-square-foot dwellings he built on over a third of an acre
in a leafy middle-class suburb of Johannesburg. The architect's ability to exploit concrete's strength is visible in his own home—which is one of the three. The structure feels light and spacious, thanks to the absence of a single load-bearing wall.
Gregory and Caryn Katz are dwarfed beneath the cantilevered concrete overhang, which houses the bedroom on the upper level. The stackable glass doors that run beneath allow the house to open completely to the yard and swimming pool, soften the severity of the concrete, and blur the boundary between indoors and out.
Photo by Elsa Young
It took the architect Felix Oesch's nine months to build this concrete prefab outside of Zurich. He used a prefabricated panel system developed by the German manufacturer Syspro, which is more commonly used for building cellars than entire houses.
The rear of the house looks out into a lush backyard. The rough, industrial prefabricated concrete panels by the German manufacturer Syspro are the building blocks of the home.
Photo by Hertha Hurnaus
TKR is a minimal home in Tokyo designed by Atelier Salt. The concrete structure is characterized by a large opening on the upper level that serves as an open balcony space. Additionally, the home is cantilevered to allow for covered parking on the ground floor.
The interior consists entirely of exposed concrete accented by wood. The ground floor features double-height ceilings that maximize natural light from the light wells above.
Courtesy of Atelier Salt and Leibal
A trip to Japan convinced the designer Christopher Robertson and his wife, Vivi Nguyen-Robertson—his partner at Robertson Design—to find a way to build the concrete house of their dreams. Inspired by Tadao Ando's Benesse House Museum and the Chichu Art Museum in Naoshima, the Robertsons conceived their 2,900-square-foot house as an unfolding sequence of simple geometric forms: a low concrete wall, a concrete cube, and a box clad in Siberian larch.
A pivoting door, also made of larch, provides a shortcut to enter the structure as an alternative to the main courtyard entrance.
Photo by Jack Thompson
When Naomi Hupert and Ben Kinmont moved their family from New York City to the California countryside, they couldn't leave the city behind entirely—they wanted their new home to have that same Manhattan loft-like feel, even though it would be nestled in an apple grove in Sebastopol. Fortunately, Anderson Anderson Architecture was able to adapt the unified open living space of the loft into their new concrete prefab home.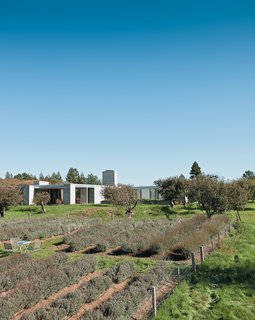 The Hupert-Kinmont house lies low in a century-old apple orchard, far from neighboring houses. The spaciousness of the rural surroundings is echoed inside.
Photo by Dave Lauridsen
An attentive sensitivity to site played into nearly every aspect of this modernist home on Martha's Vineyard. Architect Peter Rose collaborated with landscape architect Michael Van Valkenburgh, who worked to craft and maintain the wild, organic feel of the environs. Will Parry, a local builder, custom-fabricated all of the sustainably harvested Spanish cedar-and-glass windows and skylights throughout.
Six modular, concrete boxes comprise a five-bedroom home on Martha's Vineyard, in Chilmark, Massachusetts. Designed with the sloping seaside site in mind, it was built to guard against potential erosion.
Photo by Chuck Choi
A Concrete Box in Rural Belguim
Influenced by the rural Belgian countryside that surrounds it, this single family concrete home by TOOP architectuur was designed to ensure that the inhabitants have a view of nature from every angle. The choice of building materials was also influenced by the colors of the rural landscape including gray wood, patterned concrete, and dark, anodized windows.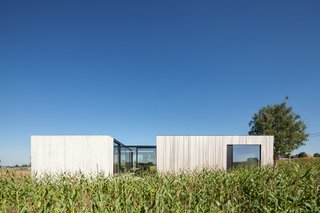 An inner garden creates a private area for the homeowners and is a gateway for natural light.
Tim Van de Velde
Basel-based architect Silvia Gmür's concrete villa on Lake Maggiore, Switzerland, is a remarkable platform from which to marvel at the spectacular Swiss Alps. With two separate homes on each floor, the concrete box design is punctuated by a pair of inverted pyramids—no doubt an homage to the surrounding mountain peaks.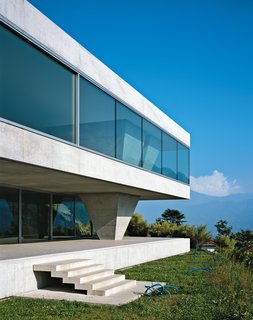 Casa ai Pozzi makes a bold statement on the mountainous shores of Lake Maggiore. The windows that wrap around this concrete villa afford stunning views of the Swiss Alps, and the inverted pyramid that supports the structure subtly mirrors the surrounding mountain peaks.
Jennifer Baum Lagdameo is a freelance design writer who has lived in Washington DC, Brooklyn, Tokyo and Manila. She is currently exploring the Pacific Northwest from her home base in Portland, OR. Follow her on Instagram @jenniferlagdameo
HAVE A CONCRETING PROJECT?
If you are ready to go with your next concreting project fill out a quote form here and at concretebroker we can put you in touch with a concreting expert near you. In fact we'll go further, we'll match you with 3 concreting experts. Assess their quotations, read about their business online at concrete broker, and make an impartial, calculated decision.
Concretebroker provides the tools, information and resources to purchase and pour concrete.
Find what you need to know for your next concreting project here
HOW MUCH CONCRETE, STEEL AND ACCESSORIES DO I NEED?
And how much do concrete slabs cost in Australia?
WHAT MAKES A GOOD CONCRETER?
Are you cut out to be a good concreter?
HOW TO POUR A CONCRETE DRIVEWAY IN THE USA
How to Pour a Concrete Driveway by Sciulli Concrete

I'VE NOW GOT PROBLEMS WITH MY SLAB
What was the cause?
And how can I prevent it from happening next time?
HERE'S TEN "DON'T DO'S" WHEN IT COMES TO POURING AND FINISHING CONCRETE
Inadequate concrete finishing can lead to surface imperfections
WHY DID MY CONCRETE CRACK?
Who's fault is it?
HOW TO POUR A CONCRETE SLAB BY THE FAMILY HANDYMAN
Watch this clip for some Do It Yourself tips ideal for your next pour

HOW TO BUILD FORMWORK
With our friends at Bunnings Warehouse we'll show you the basics for building formwork for a concrete slab

HOW TO LAY A CONCRETE SLAB
Follow Cement Australia's comprehensive step by step guide to laying your own slab
TO SEAL OR NOT TO SEAL
Thinking of sealing or resealing your concrete? Find out what you need to know here
DID YOU KNOW THERE'S A DOZEN THINGS TO CONSIDER WHEN ORGANISING YOUR CONCRETE POUR?
Check in with concretebroker's dozen before your next concrete pour. Before it's too late
I NEED CONCRETE. HOW DO I CHOOSE A CONCRETE PLANT?
Concretebroker gives you half a dozen things to look out for when choosing a concrete plant
SHOULD I POUR CONCRETE TODAY?
Every day concretors and construction managers tear their hair out unsure of whether they should or shouldn't pour concrete due to the weather
conditions
SO TELL ME, IS CONCRETE ENVIRONMENTALLY SUSTAINABLE?
Now running the Association's National Precast Concrete Association office from Adelaide, Sarah Bachman gives us some insight

CAN I POUR CONCRETE IN THE RAIN?
We hear much these days about pouring concrete on hot, dry windy day. But what about when it's raining?
THE CONCRETEBROKER DICTIONARY VOLUME 1 (AUSTRALIAN EDITION)
Your comprehensive guide to the most popular abbreviations, definitions, phrases, slang and terms used within the industry.
HERE'S HALF A DOZEN HINTS TO HELP YOU BEFORE ORDERING A CONCRETE PUMP
Concrete pumps can save man hours, time and therefore money, but there are some important things to consider before you hire one
TEN (THATS 10) MINUTE CRACK REPAIR. YOUR'E KIDDING AREN'T YOU? Cracks in Concrete - forget about them in ten minutes - just watch this
video
WOOD CONCRETE - HOW TO MAKE CONCRETE LOOK LIKE WOOD FLOORING
Is that concrete? Or a timber floor? Watch this video to find out....
HOW TO LAY A SMALL CONCRETE PAD
Another look at how to lay a small concrete slab from DIY Network.com
LETS TALK ABOUT STEEL FIBRES
Mesh sits in the middle of your concrete slab and is quite cumbersome. What do steel fibres do?
EVER THOUGHT ABOUT PLACING A PATTERN ON YOUR CONCRETE?
BRICKFORM show how to properly stamp concrete from start to finish
HOW TO POUR AND FINISH CONCRETE
YouTube handyman and alround good guy Russ Richards shows us how to finish a slab properly
NEED A CONCRETE TEST
Check in with Valley Civilab, our latest member for all your concrete, soil and aggregate testing needs
CONCRETE CAN BE A SPONGE FOR AIR POLLUTION
Concrete surfaces can remove sulfur dioxide, a major contributor to air pollution, from the air, new research suggests

FLOOR COATINGS EXPLAINED
An overview of floor coatings and a quick look at whats happening in the floor coating market overseas

COLORED CONCRETE IS TAKING OVER AND WE'RE VERY INTO IT
Pink? Blue? A watercolory ivory? You choose!
TALK TO ME ABOUT CONCRETE AND STEEL ACCESSORIES
What accessories are used in the standard concrete slab? And where do I buy them from?
BEWARE THE COLD JOINT
Cold joints in concrete are your worst nightmare. But how do they occur and how do we prevent them from happening?
---
Tags: architecture concrete houses Dwell Magazine home builders houses
---
This article was written by marketing@concretebroker.com.au all rights reserved. The views and opinions expressed in this article are those of the author(s) and do not necessarily reflect those of concretebroker.com