Published on 2/8/2022
Published by marketing@concretebroker.com.au
Top 10 Most Influential Landscape Architects of All Time
André Le Nôtre heads the list
Cover photo : Gardens of Versailles courtesy of artlark.org
Top 10 Most Influential Landscape Architects of All Time
By Land8: Landscape Architects Network on November 8, 2015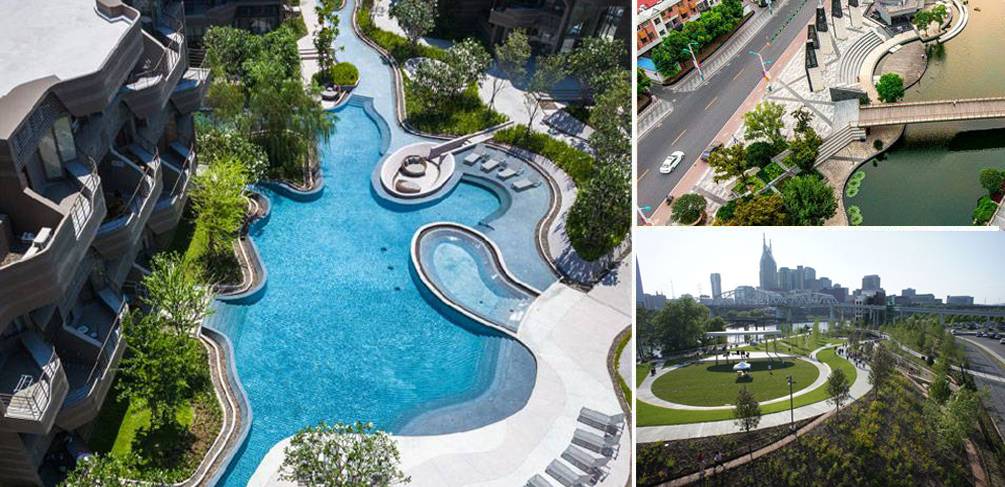 We take a trip down memory lane and honor some of the most influential landscape architects in the history of the profession. Gone, but not forgotten: This is the legacy of 10 influential landscape architects, who have made their mark on history both physically (in their lasting designs) and spiritually (in their influence on the profession). Listed in chronological order, behold LAN's top 10 most influential Landscape Architects of all time.
1. André Le Nôtre (1613-1700)
As the son and grandson of gardeners of the French court, André Le Nôtre learned about art and architecture from his early childhood on. He grew up to become gardener to the king's brother and other French lords, and his first gardens sowed the seeds of his unique and thorough landscape architecture perspective. His work caught the eye of King Louis XIV, who appointed him to design the king's garden and restore the gardens of Versailles. While the number of Le Nôtre's creations can't be counted on the fingers of two hands, those he did design remain iconic, including his masterpieces — the Garden of Vaux-le-Vicomte and the gardens of Versailles. Recommended Reading: André Le Nôtre in Perspective (Editions Hazan) by Patricia Bouchenot-Déchin
Garden of Versailles, France. Photo credit: Alexandra Wilmet
2. Lancelot "Capability" Brown (1716-1783)
Lancelot Brown was an English landscape architect who was often known by his nickname, Capability. He earned the moniker because he used to tell his customers that their sites had good "capability" for landscaping. Brown followed in the footsteps of William Kent (1685-1748), advocating a more naturalistic style using large expanses of undulating grass, water bodies with irregular shapes, and shelterbelts. This earned him criticism during his time, but his style became a key innovation in the history of landscape architecture, giving birth to the modern English garden. Many of his 170 gardens remain today, including Kew Gardens, Blenheim Palace, and Chatsworth House. Did you know that the Blenheim Palace park has been regularly used in films? You will look more carefully at "Harry Potter and the Order of the Phoenix" next time! Recommended Reading: Lancelot 'Capability' Brown: The Omnipotent Magician, 1716-1783 by Jane Brown
This is on the west side of the palace. The gardens follow French style of Le Notre with knotwork of low box hedges and shaped fountains. © Copyright Colin Smith and licensed for reuse under this Creative Commons Licence
3. Peter Joseph Lenné (1789-1866)
This Prussian landscaper was born into a family of castle gardeners. He learned the profession from big names in early 19th century landscape architecture and became a fine connoisseur of plants. Lenné created one of the first public parks in Germany — Park Klosterberge in Magdeburg. But his major works were the redesign of the park at Sanssouci in Potsdam and the Tiergarten in Berlin. Lenné's success lies with his ability to mix utility and beauty, combined with his extensive botanical knowledge. Lenné remains a source of inspiration for many artists and landscape architects.
"P1190390 Potsdam sans souci rwk" by Mbzt – Own work. Licensed under CC BY-SA 3.0 via Commons
4. Frederick Law Olmsted (1822-1903)
Most of us think of New York City's Central Park when we think of Olmsted. But this iconic American landscape architect was a man of many passions. He studied engineering, agronomy, and journalism, and traveled widely through Europe and the United States. He was passionate about nature and its preservation. Olmsted played an important role in the protection of nature, including the creation of the Niagara Reservation in association with Calvert Vaux (1824-1895). In additional to Central Park, Olmsted left his imprint on many urban projects and parks, including several university campuses and the grounds of the U.S. Capitol. Recommended Reading: Frederick Law Olmsted: Plans and Views of Public Parks (The Papers of Frederick Law Olmsted) by Frederick Law Olmsted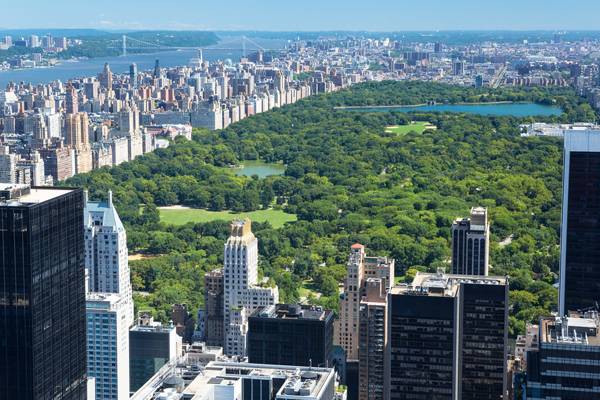 Central Park, designed by one of the earliest known landscape architects Fredrick Law Olmstead. Photo credit: shutterstock.com
5. Gertrude Jekyll (1843-1932)
English landscaper Gertrude Jekyll was one of the first famous women in the profession. Her contribution resides mainly in the publication of many books and articles focused on her research into landscape compositions. Influenced by the Arts and Crafts movement, her creations showed the importance of proportion and color balance, as well as the use of textures and fragrances in plantations, such as mix-borders. She created about 400 gardens in England, and some in Europe and America, but few have been preserved. Others have been restored and can be visited. Jekyll was also passionate about creepers and roses — Rosa Gertrude Jekyll has been named in her honor. Recommended Reading: Gertrude Jekyll and the Country House Garden: From the Archives of Country Life by Judith B. Tankard
"Jekyll Garden Moutiers. The sundial garden" by Amanda Slater. Licensed under CC BY-SA 2.0 via Flickr.
6. Geoffrey Jellicoe (1900-1996)
The English landscape architect and theoretician had a vast knowledge of landscape history, writing several books, including "Italian Gardens of the Renaissance", with the help of J.C. Shepherd (1896-1979). In 1948, he became the founding president of the International Federation of Landscape Architects (IFLA). Several of his projects, including the Kennedy Memorial at Runnymede and the garden of Sutton Place in Surrey, are significant works of landscape architecture. See More History Inspired Articles:
Recommended Reading: Landscape of Civilisation – Moody Gardens by Geoffrey Jellicoe
House of Fraser roof garden. Photo credit available upon request.
7. Thomas Church (1902-1978)
This American landscaper was known for developing the modern movement in landscape architecture. He mixed innovative principles of modern style, such as the use of abstract forms, with the following four design principles:
He thought of the garden and the house as a whole — a set to design. The garden is an extra living room.
He focused on the function of the site, while still respecting the beauty of the place.
He advocated the simplicity of a project for aesthetic reasons.
He connected the place with the surrounding context.
During his career, he designed many projects, often at universities and private residences. Probably the best known is Donnell Gardens, an icon of modern style. But above all, Church is the father of a whole generation of American landscape architects who have made their mark on the American landscape. Recommended Reading: Gardens Are For People, Third edition by Thomas D. Church
"Donnell garden" by morisius cosmonaut. Licensed under CC BY-SA 2.0 via Flickr.
8. Pechère René (1908-2002)
This Belgian landscape architect participated in the design of the outdoor facilities for the Universal Exhibition of 1958. The gardens of the Congo and the Four Seasons that he made for the event provided him with international fame. Pechère designed nearly 900 public and private gardens in Belgium, France, the Netherlands, and Germany. His philosophy was to design the garden as a space that contributes to the joy of living. His work also highlighted the importance of the knowledge of many notions of art (sculpture, drawing, history, etc.). His designs used plants as well as architectural elements, taking into account shadows, sunlight, and colors. Renowned for Botany Park — or the Mont des Arts — in Brussels, Pechère is also known to have collected countless books in the field of garden art. His books are now gathered at the René Pechère Library, where you can view all kinds of documents on landscape architecture, onsite or via their website.
"Le jardin multicolore" by Stephane Mignon. Licensed under CC BY-SA 2.0 via Flickr.
9. Roberto Burle Marx (1909-1994)
Back to the other side of the Atlantic Ocean, more specifically, Brazil: Burle Marx has been widely recognized for his gardens and parks, but he was also an artist, ecologist, naturalist, musician, and painter. He studied the fine arts long before creating his first garden at a private residence. Passionate about botany, he studied the tropical plants of Brazilian forests along with other botanists and researchers. He created a collection of plants that is kept in Guaratiba, now owned by the state and considered a national monument, with its 3,500 species of plants (Sitio Roberto Burle Marx). Several plants also bear his name, including Calathea "Burle Marx". Recommended Reading: Roberto Burle Marx: Brazilian Modernist by Jens Hoffmann
The Central Park of the Kuala Lumpur City Centre (KLCC) shortly before he died. Photo credit: Dr. Francis Ng,
But if Burle Marx is known for his contribution to botany, he is even more famous for his modern landscape architecture style. He favored the use of free form, asymmetry, and endemic tropical plants and did not hesitate to use color in his designs. One of his best-known works is the four-kilometer promenade along Copacabana Beach, with its abstract mosaic.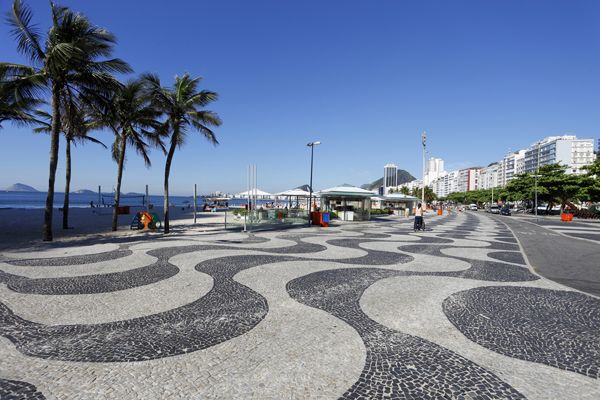 Copacabana Beach; credit: Shutterstock.com
10. Corajoud Michel (1937-2014)
The French landscape architect and professor contributed to a new vision of landscape design, especially in urban areas. Corajoud believed that the work of an urban landscape designer should take into account the architecture surrounding it, providing a continuity with the buildings. His work also focused on people in the landscape project, giving special attention to their expectations and happiness. His projects' success was measured by the attendance rate of the public. This way of thinking has earned him several awards.
"Bordeaux miroir 01" by Oliwan – Own work. Licensed under CC BY-SA 3.0 via Wikimedia Commons
– These emblematic figures of the current landscape are, for us, a way to trace the history of landscape architecture. We can proudly follow their example when we look and think about the landscape, understand the relationship between landscape and man, and admire the increased knowledge that is their legacy in the field of garden art and landscape.
Recommended Reading:
Article by Alexandra Wilmet Return to Homepage
NEED LANDSCAPING AND CONCRETE IN SYDNEY

Check in with our latest member Blue Tongue Landscapes and Concreting

CONCRETE AND GLASS WORK IN HARMONY AT NEW IVANHOE HOME

With Glass By Viridian

NEED A LANDSCAPER IN BRISBANE AND SURROUNDS

Landmark Concepts - exceptional landscaping in every way

TRANSFORM YOUR OUTDOOR LIVING AREA WITH VERSATILE CONCRETE AND LANDSCAPE

Versatile Concreting and Landscape create fantastic outdoor living areas throughout Brisbane

URBAN LANDSCAPE SUPPLIES PTY LTD

UrbanLandscapeSupplies

Our Landscape division can transform your property with a professional team comprising of qualified landscape gardeners and bricklayers. Specialising in Retaining Walls and Hard Landscaping, we complete everything from large commercial works to private residential. We supply and erect besa blocks, leggo blocks and all the retaining wall blocks required to construct your retaining walls, footings and piers. Whether it's bricklaying or retaining wall preparation and erection, Urban Landscapes is the place to call. In addition to our team of onsite landscape and retaining wall specialists we hire equipment, supply landscape materials, and deliver to site for you

LoganLandscapes

Logan Landscapes has been delivering quality residential and commercial landscaping projects throughout South-East Queensland since 1979. The company principal, Ross Logan, is a professional landscaper with over 30 years of experience. Brisbane based Logan Landscapes is a multi-award winning contractor who has successfully completed more than 1500 Queensland projects between the Central Queensland and the New South Wales border. Our business uses high levels of creativity, experience and knowledge to bring you the very best in landscaping services.

BLUE TONGUE LANDSCAPES AND CONCRETING

BlueTongueLandscapesandConcreting

Blue Tongue Landscapes and Concreting are one of Sydney's pre-eminent landscaping and concreting companies. They have years of experience, a sound reputation and excellent product knowledge. Whether it's a driveway, retaining wall, landscape feature or pool surround you are after, Blue Tongue Landscapes and Concreting can provide you with an excellent service at affordable rates.

D'ABACO LANDSCAPE GARDEN SUPPLIES

dabaco

We have all the materials you need for your landscape and garden requirements. Here at D'Abaco we can supply materials from the start of any type of building or commercial project, home or unit development site, through to the completion and landscaping.

JRCONCRETEANDLANDSCAPES

JR Concrete & Landscapes really do have every aspect of your outdoor projects covered. See our list of professional services that will suit your needs and requirements. Coverage areas include but are not limited to, Blue Mountains, Sydney and Sydney?s Greater Western suburbs

VERSATILE CONCRETE AND LANDSCAPE

Versatileconcreteandlandscapes

Whether you are looking for a new driveway or pool surround or an outdoor feature..?.we have the right solution for you. We specialise in domestic & commercial concreting and structural landscaping. With over 12 years of hands on experience you can be assured that the quality and precision of our work is at the top of the industry. With each project, our goal is the same ? to partner with our customers to not only provide quality concrete work, but also create functional and beautiful spaces.
---
Tags: archeitecture iconic landscapes landscape landscape architect landscaping
---
This article was written by marketing@concretebroker.com.au all rights reserved. The views and opinions expressed in this article are those of the author(s) and do not necessarily reflect those of concretebroker.com