Published on 2/10/2021
Published by marketing@concretebroker.com.au
Concrete calculator
Calculating how much concrete you require
CALCULATING THE CONCRETE YOU REQUIRE IN CUBIC METRES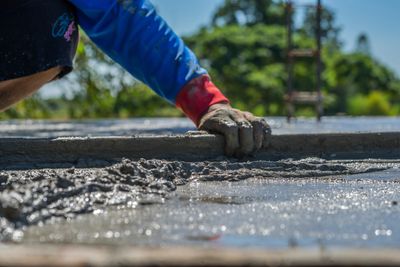 CUBIC METRES EQUAL LENGTH TIMES WIDTH TIMES HEIGHT
When calculating the amount of concrete you require the height of your slab is usually 100 mm (i.e., 4 inches). That is standard for driveways and house slabs. But if it is a shed slab or carrying heavy weight a thicker slab may be require.
Therefore when calculating cubic metres remember to multiply by .1, not 1
Example : if your concrete slab is 10m in length and 20 metres in width and 100mm high you require

10 x 20 x .1 = 20 cubic metres of concrete
Add 10% to your calculation for measurement purposes
It is difficult to calculate the exact amount of readymix concrete required in your concrete slab. The surface is often uneven, concrete can spill and slide out through your formwork. Therefore most concreting experts recommend you ADD 10% to the volume of concrete being ordered. Ordering small amounts of concrete to cover shortfalls can become very expensive.
Therefore your calculation should read :
10 x 20 x .1 = 20 x 10% = 2
20 + 2 = 22 cubic metres
VIDEO
Check out this great video on how to calculate cubic metres
NEED HELP CALCULATING YOU CONCRETE & MIX? CONTACT US TODAY
Phone 04378230553 or 0403872437
Or simply email : info@concretebroker.com
---
Tags: calculator concrete calculator concrete Melbourne concrete prices concrete Sydney cubic metres
---
This article was written by marketing@concretebroker.com.au all rights reserved. The views and opinions expressed in this article are those of the author(s) and do not necessarily reflect those of concretebroker.com