Published on 3/18/2020
Published by marketing@concretebroker.com.au
Concrete near me
Concrete Shopper has access to over 500 concrete plants in Australia
DON'T SPEND YOUR LIFE WAITING FOR CONCRETE - Visit CONCRETE SHOPPER
Concrete Shopper has access to 500 readymix concrete plants in Australia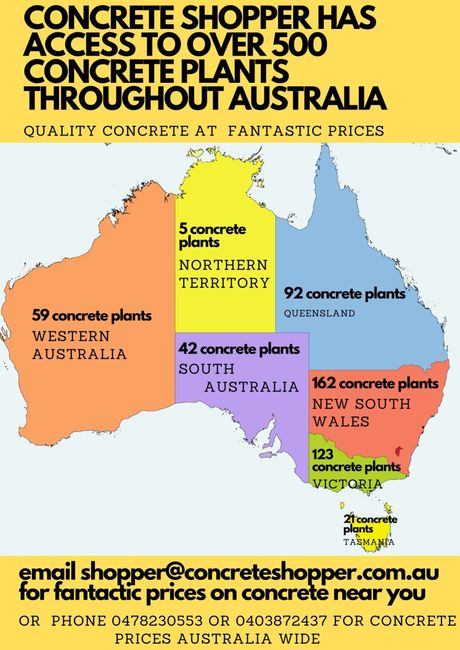 Visit the Concrete Shopper Pty Ltd homepage with us to find out more at Concrete Shopper
DOES MY CONCRETE PLANT CARE ABOUT ME?

Sometimes it?s only when things go terribly wrong you work out whether or not your concrete plant does actually care for you

Do you want an extra 200 leads each month for your concrete?

IS THERE ANY MONEY IN CONCRETE PLANTS?

?Can I make money out of a batch plant?? Let's find out

I NEED CONCRETE. HOW DO I CHOOSE A CONCRETE PLANT?

Concretebroker gives you half a dozen things to look out for when choosing a concrete plant.

Fort Collins Residents Share Concerns About Concrete Plant?s Plans

ConcreteandQuarries

Concrete and Quarries supplies and delivers aggregates, sand and quarry products to the groups concrete plants, independent and company aligned concrete plants, precast suppliers large landscaping supply companies, the groups landscape supply yards and large wholesalers and retailers throughout NSW and overseas

BurnsEarthmoving

Burns Earthmoving Pty Ltd supply sand, gravel and aggregates in trucks and truck and dogs throughout the Dungog Shire to concrete plants, construction and civil companies, builders, councils, the RMS and one off projects. They have an extensive fleet of earthmoving equipment for earthmoving projects including road building, slab preparation, bridge and rail works, agricultural projects and general infrastructure. Their earthmoving equipment includes, but is not limited to graders, excavators, backhoe's, rollers, water carts, diggers and tippers. Burns Earthmoving Pty Ltd don't just supply you with the material for your road, they can build it!

IMPORT MACHINERY & EQUIPMENT AUSTRALIA

ImportMachineryAndEquipmentAustalia

IMAEA is a Sunshine Coast based family business that supply a range of specialised machinery around Australia including Mini Mixers, Large Agitators, Tilt Trays, Concrete Pumps, Hook Lifts, Rubbish Compactor, Concrete Plants, Fiori Italian Self Loading Mixers & more! IMAEA offers special purpose vehicles with a focus on bringing new technologies and ideas to various fields. We offer a lineup of Kyokuta products for specific applications in order to realise equipment improvements and significant workload savings in the front line of construction and transportation.

Expressconcrete

Express Concrete is an independent, family owned ready mixed concrete supplier. Providing the construction industry in London with an alternative supplier that offers customers an excellent service, high quality product and competitive source of supply. Our first concrete plant opened in Barking, East London in May 2017. After a successful first year, we opened our second plant in Erith in September 2018. We are planning various additional plants across London in the near future and will keep you updated on the progress of our plans.

KERN-DEUDIAM DIAMANTWERKZEUGE UND MASCHINEN GMBH

Diamondtools

German producer of diamond tools and machines for construction industry and drilling and sawing contractors. We develop and produce brazed and laser welded drill bits, laser welded saw blades, grinding tools, special tools according specification of customers for brick industry, precast concrete plants, demolition of nuclear and water power stations etc. Our main customers are located in Europe, North- and South-America, Australia, Middel-East and North-Africa. We are a medium sized independent company.
---
Tags: concrete plant concrete prices concrete quote concrete supplier readymix concrete
---
This article was written by marketing@concretebroker.com.au all rights reserved. The views and opinions expressed in this article are those of the author(s) and do not necessarily reflect those of concretebroker.com