Published on 12/10/2019
Published by marketing@concretebroker.com.au
Green Cement is a step closer
Magnesium oxychloride cement, or MOC, is carbon neutral
Breakthrough in 'green cement' promises to help cut emissions from concrete, a major polluter
NOV 21, 2019
Source : www.domain.com.au
A type of cement touted as more environmentally friendly than the conventional version is a step closer to being used in home building, after a new discovery by Sydney researchers.
A carbon-neutral variation of cement had struggled to gain widespread adoption because of its poor water resistance.
The new breakthrough promises to make this greener type of cement as robust as its traditional counterpart.
Known as magnesium oxychloride cement, or MOC, this version is carbon neutral, as opposed to conventional cement which emits carbon dioxide in the chemical reaction in which it is made.
The bulk of concrete's emissions come from this process. It's estimated making cement and concrete is responsible for 5 to 8 per cent of emissions worldwide.
MOC is made from two byproducts from magnesium mining, magnesium oxide and magnesium chloride. The two chemicals can also be made from seawater.
It has so far been held back by its poor water resistance when turned into concrete, but associate professor of engineering at Western Sydney University Sarah Zhang and her team have discovered a method for improving the material.
Associate Professor Zhang said the discovery was significant. "We think this is a breakthrough," she said. "From the current research, no one can achieve such a high water resistance for MOC, particularly for warm water attack."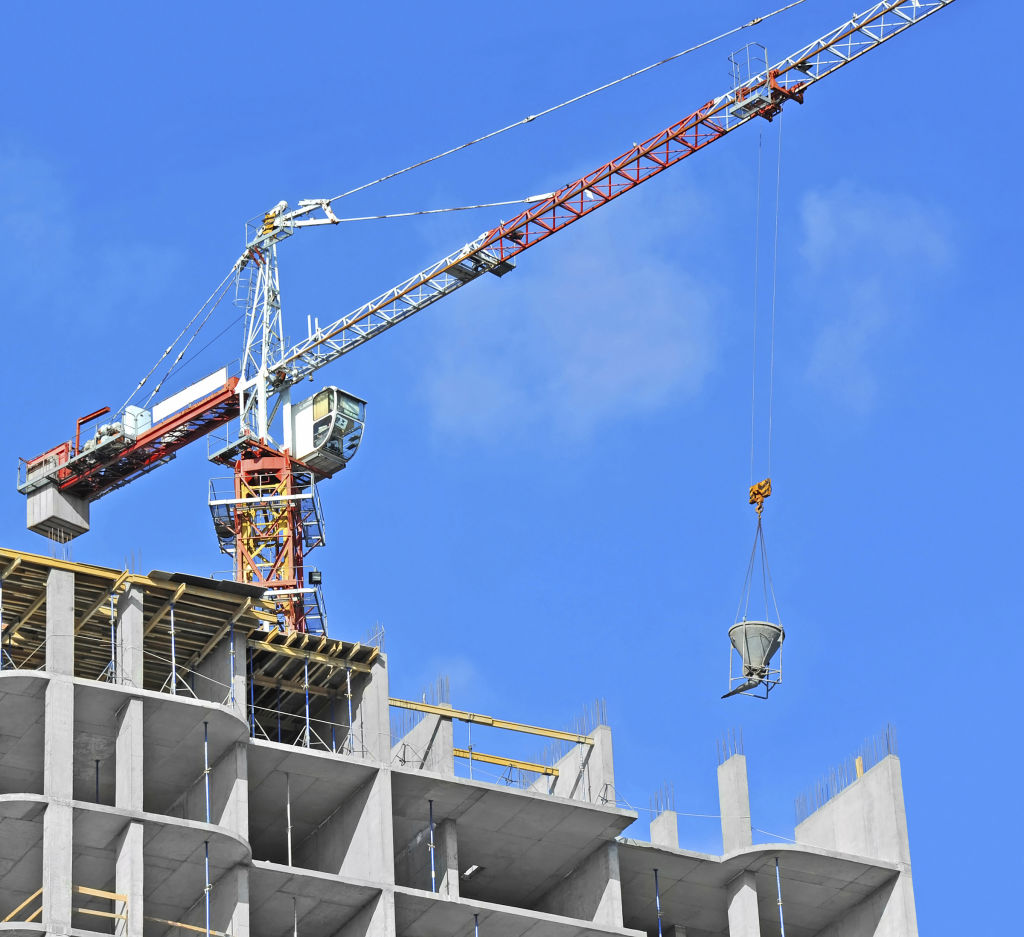 The only material we use more than concrete in construction is water. Photo: iStock
The team added industrial byproducts fly ash and silica fume to the cement mixture, which improved its resistance in room temperature water.
To survive warm water, phosphoric acid and soluble phosphates were added.
Given a global need to cut emissions, Associate Professor Zhang said there was a large potential for uptake within construction industries. She said both Australian and international companies had approached her, interested in the material.
"Because we are aiming for more sustainability and a better environment, this material has a lot of potential to be adopted by industry, I believe," she said.
Another factor preventing widespread uptake was its corrosive effect on steel, which meant traditional methods of reinforcing concrete using steel rebar were useless.
"We need to take some serious action to solve this big problem," Associate Professor Zhang said.
The research has been welcomed by other experts.
University of Melbourne engineering professor Priyan Mendis said it was critical to tackle this challenge.
"Durability is a big issue with this when you use chlorides in concrete," Professor Mendis said. "For me it's a more critical problem for this concrete than this moisture issue."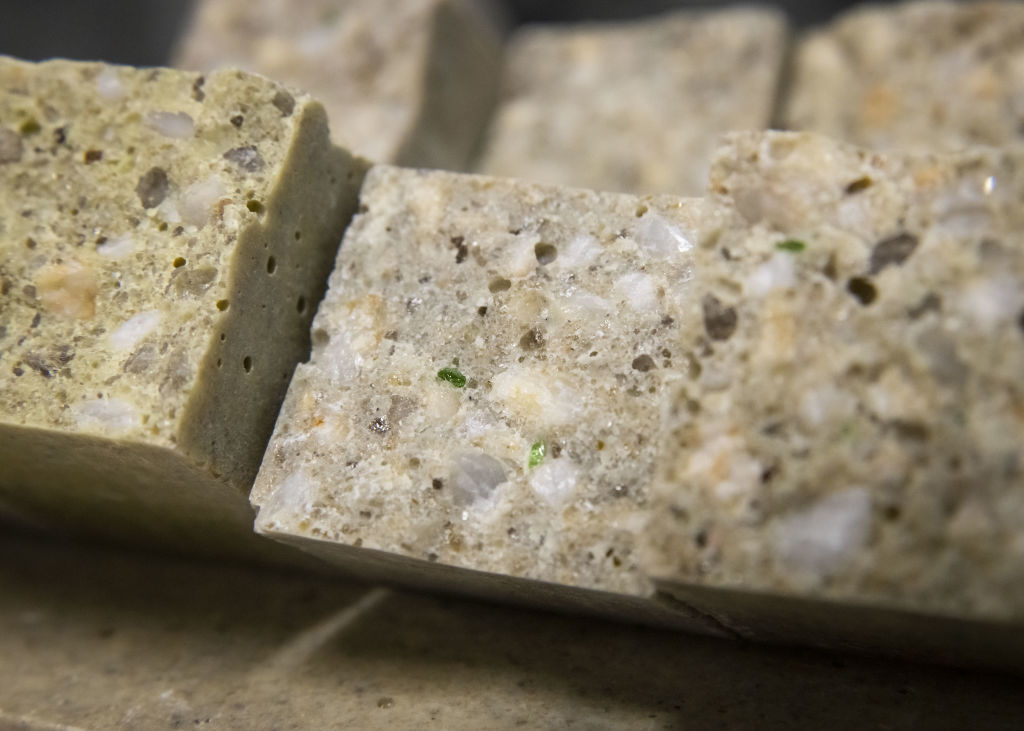 Recycled glass in Polymer Cement Photo: Deakin Uni
Professor Mendis said regulatory approval was another hurdle, which had so far held back geopolymer concrete, which uses resin instead of cement as a binding agent.
"I think the major barrier at the moment is authorities accepting this one and the construction companies putting it in their specifications," he said. "We have to do some work to convince authorities to use these products.
"But it will be a bit harder because people are generally nervous when they see chlorides [because of the effect on steel]."
You may also like to read:
TINY SPHERES MAKE CONCRETE GREENER AND STRONGER

New micron-sized calcium silicate spheres could lead to stronger and greener concrete, the world?s most-used synthetic material

AT THE TOP OF THE HIGHEST CONCRETE STRUCTURE IN GREECE (180M)!!

A magnificent view of this construction site and Ptolemaida valley.

THIS CONCRETE (YES CONCRETE) IS GOING HIGH TECH

Although concrete isn't going away anytime soon, it appears there is room to make all that grey a bit greener

FLURO BINS - ADELAIDE SKIP BIN HIRE

FluroBinsAdelaideSkipBinHire

Fluro Skip Bins are based in Wingfield near Port Adelaide. We are a family owned and operated local skip bin hire company offering cheap skip bin hire for domestic, commercial and industrial purposes in Adelaide and the surrounding metro area. Our skip bins range in size from 2-7 cubic metres. We accept general waste, green waste, concrete / bricks / pavers / tiles, dirt, heavy mixed. Prices vary according to the skip bin size, and the waste type going into the skip bin.

ThePerfectBlock

Features of The Perfect Block are cost, which is highly competitive with all wall building materials and costing less than 2x6 wood framing and its sound attenuation capability provides a quiet living environment. All this in a green building block that is fireproof and saves energy.

For Green Builders & Developers: - LIGHTWEIGHT - Block as light as 30 Lbs. - LOW WASTE - As little as 2% waste reduces costs to the builder, and waste tonnage to the landfill, and potential damage to the environment - PRECISE DIMENSIONS - Clean & Even edges, ICCF block, that has perfect dimensions, is easier to build with and eliminates compounded errors by slight variations in block.

Hire a Fluro Skip Bin, from 2 - 7 cubic metres

CONCRETE FROM NATURAL SOIL AND WIND BLOWN SAND

China develops new cement concrete

WHAT ARE THE MOST FREQUENTLY ASKED QUESTIONS ABOUT CONCRETE?

Lets ask the experts for the answers to everything you need to know about concrete

MIGRATION AGENT ADELAIDE - ISA MIGRATIONS AND EDUCATION CONSULTANTS

isaadelaide

ISA Migrations or ISAM is a qualified international education consultancy firm based in Australia and India which provides assistance and visa advice for students who wish to study in different countries such as Australia, New Zealand, Singapore, Canada, United Kingdom, and the United States. Also, ISAM offers a wide range of migration solutions designed to help those who have plans to move and/or work in Australia. At ISAM's we guarantee that potential students and clients can expect the solid support and assistance of our migration agent Adelaide.

FullTrackPowerTrowels

The Full-Track Power Trowel is Designed by Mr. Benny Goosens of BELGIUM * Unique Trowelling System * Fastest Blade Changing System in The World - * Thick LONG LASTING BLADES * Variable Speed at 40-200RPM * CABLE FREE - Pitching System * Shock Absorbers * Stainless Steel Arm * Oxidised Body * Twin Safety System * Kevlar Belt on Purpose Built Clutch System * And Much More The BEST THING ever to happen in "Concrete Power Trowels" These magnificent machines are designed and patent to make your job easier, simpler, quicker, smoother, safer, cheaper and list goes on!!
---
FIRST
---
Tags: climate change concrete emissions environment green cement manufacturing the environment
---
This article was written by marketing@concretebroker.com.au all rights reserved. The views and opinions expressed in this article are those of the author(s) and do not necessarily reflect those of concretebroker.com